C5116 China Vtl Single Column CNC Vertical Lathe Machine Price






Features:
1.C51- single column vertical lathe is suitable for all sectors of the machining, it can be used for the outer cylinder, round-dimensional surface, end, grooving and cutting of rough and fine turning.
2. The vertical beam rail car and ram guideways super audio quenching treatment (HRC≥50), rail sliding surface laminating process (including the swash plate surface and the Iron Mask), precision products to maintain lasting, extending at least overhaul period more than 10 years.
3. Electrical Japanese Omron PLC control, electrical parts are made of ultra-high-quality components, specifications (CE standard) wiring technology, electrical machine with ultra-high reliability.
4. pentagonal knife sets high-precision positioning rat tooth plate, 120 aliquots average positioning, extremely rigid (not in the traditional five equal parts positioning plate comparable).
5. Electronic rotary valve, the main transmission 16 mechanical transmission, increase the maximum torque output, reducing the force of the main transmission gear, adapt overloaded heavy cutting.
6. rail sliding surface plastic coated treatment to improve wear resistance. Vertical lathe rail lubrication oil centralized, very convenient; standard with 2-axis digital display (export-oriented 4-axis digital display).
7. Precision grinding gears and spiral bevel gear grinding (6 precision), low noise, stable and reliable operation at high speed.
8. Optional: rolling workbench, Germany Mecano button station, raised bed, lengthen ram, square ram like.
9. All the castings used in all HT250, tempering treatment and once after a vibration aging treatment to eliminate stress, to ensure accuracy of machine tools; execution JB / T4116-96 vertical lathe accuracy test standard, JB / 3665-96 vertical lathe Technical conditions.
10. Complete fitting configuration, users only need to prepare tools and gauges can be immediately put into production. Sales service (pre-sale, sale, sale, installation, commissioning, training, warranty, etc.), 1 year warranty.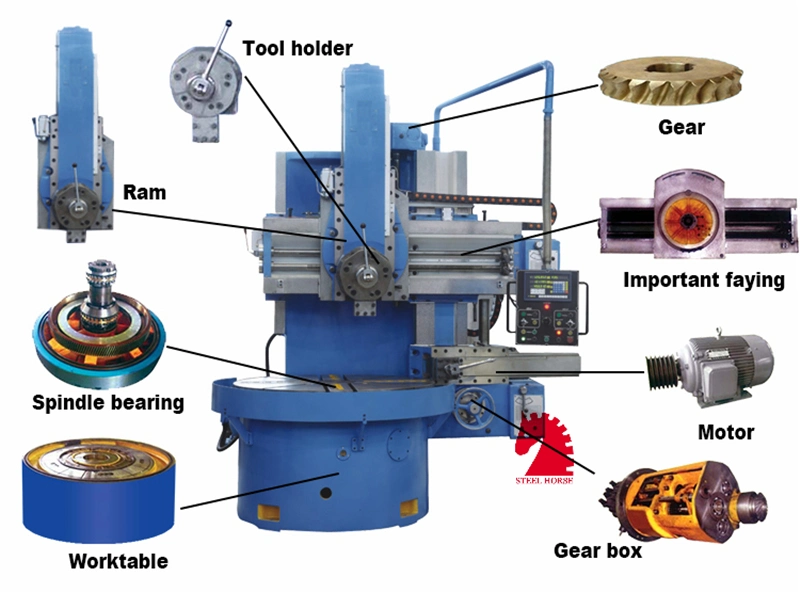 Specification:
Main specifications

Unit

C518E

C5110E

C5112E

C5116E

C5120E

Max. turning dia

mm

800

1000

1250

1600

2000

Table dia.

mm

720

900

1010

1400

1800

Max. height of workpiece

C

m

8

0

8

0

10

0

/125/14

0

125/16

0

Max. weight of worpiece

t

2

3

5

5/8

8/12

Max. cutting force of rail head

KN

20

25

Max. cutting force of side head

KN

15

20

Max. torque of table

KN.m

10

12.5

17.5

25

32

Range of table speeds (16Steps)

r/min

10-315

8-250

6.3-200

5-160

2.5-125

Range of feed rates (12Steps)

mm/min

0.8-86

Ram travel of rail head

mm

570

670

700

915

1050

Hor travel of rail head

mm

650

800

Ram hor. travel of side head

mm

500

630

Vertical travel of side head

mm

810

810

970

980

1180

Rapid traverse of tool heads

mm/min

1800

Height of tool bar section

mm

40

Power of main motor

Kw

22

30

37

Overall dimensions (L x W x H)

cm

208 x 282 x 272

219 x 2891 x 351

236 x 247x 348

2083 x 287 x 387

321 x 405 x 420

Weight of machine (Approx)

t

6.8

7.1

8.3/8.6/8.9

12.6/13.8/14.1

17.5/17.8
Guarantee Terms:
Complete service by free of charge within 13 months after B/L date Technical service will be given forever at any time. Any questions during operation, can contact us freely by email, or contact on line by Skype, WhatsApp, etc. Also can talk face to face during fairs. You will get response within 20 hours.