1. Introduction
The CNC Double Column Vertical Lathe model CK5250/CK5263/CK5280/CK52100 is a combination of modern advanced mechanics, electrics and hydraulics basing on extensive experience, special focus and professional skills in the design and manufacturing of large scale vertical lathes. It is designed and manufactured with latest technology know-how, optimized design, quality material, fitting and best process for manufacturing and assembly.
It features,
High rigid thermo-symmetrical gantry structure for superb stability even at severe cutting conditions Heavily ribbed base and table with hydrostatic axial bearing for big load capability Modular design easily to be customized to suit customer¡¯s diverse machining needs, ie. turning, milling, drilling, threading and grinding.
It is designed and manufactured to meet modern machining requirements with high speed cutting tools and
carbide cutters on workpieces of cast iron, cast steel, alloy steel, fabricated steel and other materials.
Cutting permits: 1. I.D.& O.D. cylindrical turning 2. End-facing
3. I.D.& O.D. conical turning 4. Grooving
5. Threading 6. Curve cutting 7. Milling C axis (option)

2. Tech data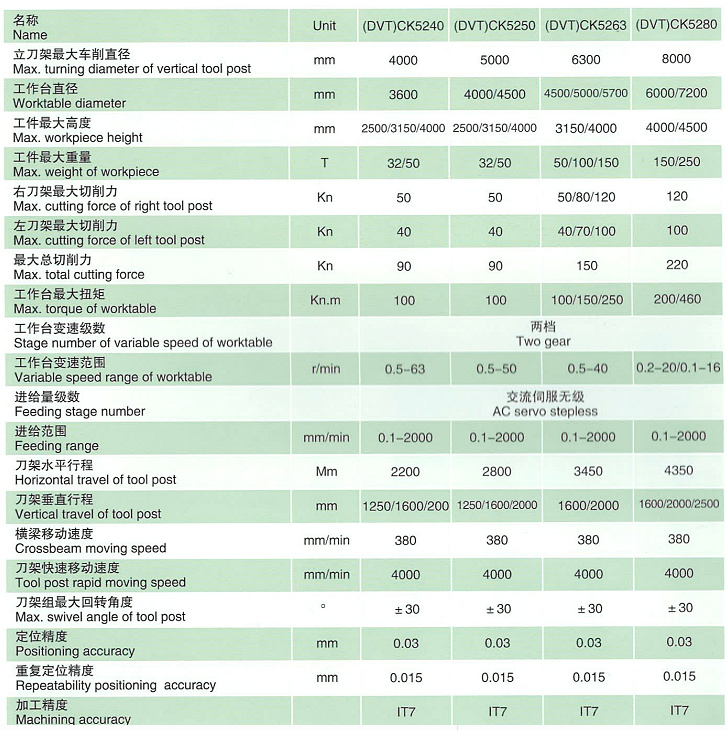 3. Main features
¡ï Suitable for 380v/50HZ/3PH, or local power supply,
¡ï Reliable & powerful Siemens SINUMERIK 802D s.l. CNC control,
¡ï High grade cast iron structure of main bodies for super stability, reliability & longer machine life,
¡ï Centralized operation button station and pendent operation panel,
¡ï Table with manual 4-jaw chuck with chucking jaws,
¡ï CNC controlled left tool head and buttons & switches controlled right tool head,
¡ï Square toolpost on vertical heads, especially suitable for deep hole machining,
¡ï Forged shafts used in the table speed change gear box,
¡ï 2 spindle speed gears, within each gear variable speeds are achievable for the table,
¡ï Hardened & ground gears in table speed change gearbox for smooth running,
¡ï High precision bearings used for supporting precision ballscrews (X / Z axes) on tool heads,
¡ï Automatic compulsory lubrication system for tool heads and cross rail guideways,
¡ï High power DC 55 kW main motor with DC digital drive unit (Eurotherm / PARKER brand),
¡ï Air conditioner for independent electric cabinet, especially suitable for tropic climate,
¡ï Work lamps for sufficient lighting,
¡ï Independent hydraulic power pack, easier for adjustment & maintenance,
¡ï Hydrostatic axial bearing table with constant flow power supply (0.2-0.4Mpa),
¡ï 12 pockets big axial hydrostatic bearing area ensuring big table load capacity,
¡ï Automatic clamping of cross rail onto the columns for heavy duty cutting,
¡ï C45 steel rams are induction hardened & ground for improved dynamic performance & longer life,
¡ï Anti-wear industrial Zinc-Aluminum alloy (ZnAl10-5) lining on sliding guideways and wear-resistant
Zinc-Aluminum alloy (ZnAl10-5) lining engraved on table guideways for longer machine life,
¡ï PLC unit (DELTA / OMRON brand) integrated in electrical system for reliable functioning,
¡ï Servo feeding motors & ballscrews are used for feeding of both tool heads,
4. Castings
Main bodies of the machine are made of high rigid resin sand castings with thermal / vibratory stress relief
(VSR) aging treatment. Steel parts are thermal refined.
¡ð resin sand casting,
¡ð high grade, high intensity and low stress
¡ð stress relieved castings to absorb the stresses and dampen the vibration during cutting

5. Machine structure
¡ï Thermo-symmetrical gantry frame structure
The machine adopts a stable thermo-symmetrical gantry frame structure and consists mainly of base,
table, R.H. and L.H. columns, cross rail, top beam, tool heads, hydraulic system and electric system.
Columns and cross rail are of box-shaped castings with numerous reinforced ribs. Two columns are
connected through the top beam on the top and bolted to the base at the bottom so to form a superb
rigid and stable structure that is qualified for stable and heavy cutting even at severe cutting conditions.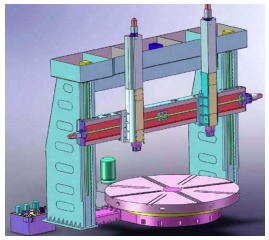 Layout of components
One DC 55 kW main motor and a speed change gearbox are fitted at the back of machine to drive the
table. Cross rail moves up and down along front guideways of columns. The two tool heads are seated
on the guideways of cross rail. The tool heads are composed of carriage and ram. Rams are induction
hardened and precision ground and jib strips are made of wear-resistant industrial alloy material and
hand scraped for precision matching. Compulsary lubrication systems are used in main drive system and
on sliding guideways. Independent hydraulic power pack locates behind the machine for easier adjustment
and maintenance. Independent electric cabinet is equipped for easier venting of heat and easier check
6. Base with spindle and bearing
The base is made of heavily reinforced ribbed grey cast iron and stress-relieved after rough machining.
Heavy load short-shaft type spindle is placed in the center. High precision (P5 class) preloaded double row
cylindrical roller thrust bearing is equipped to support the spindle radically. Inner conic ring of the
bearings can eliminate the radial clearance effectively for high precision positioning of spindle and
stable rotating at high speed. Big size hydrostatic bearings are adopted axially on the base for improved
loading capacity. Hydrostatic guideways are Zinc-Aluminum alloy lined and matched. Constant flow
hydraulic oil flows in through regulating distribution mechanism.
Constant flow synchronous pumps and a multi-head synchronized oil distributor are adopted to provide
constant oil to each individual pocket of the 12 oil pockets on the base upper guideways via regulating
valves. An oil pressure relay is equipped. Once oil pressure is less than the rated value, alarm will be given
and rotation of the working table will not be allowed.
Hydrostatic bearing features:
a). low friction for smooth rotation and long life of table,
b). heavy load capacity on table,
c). oil film between machine base and table absorbs cutting vibration & loads,
d). safety system regulating the hydrostatic pressure for optimum safety.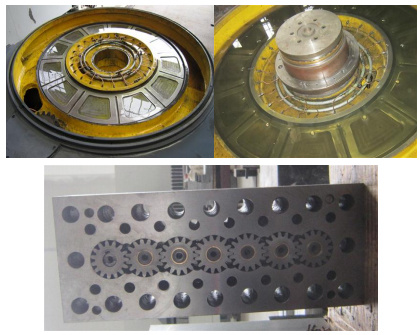 7. Table
The table is made of high grade cast iron with numerous reinforced ribs for superb rigidity. Four heavy duty
jaws are fitted on the table. A ring gear is fitted under the table. Surfaces under the table are engraved with
wear-resistant Zinc-Aluminum alloy lining.

8. Cross rail
Cross rail moves up and down along guideways of columns. Elevation of the cross rail is through a
mechanism that consists of an asynchronous motor, driving shafts, worm gear boxes, trapezoidal
leadscrews, etc. Cross rail is lifted simultaneously through the trapezoidal screws.
¡ð Cross rail will be clamped automatically on to the column after reaching the required position and
will be relieved for movement. Clamping pads are equipped to assure stable & reliable clamping of the
cross rail for preparation of heavy cutting.
¡ð Telescopic covers are equipped on the cross rail to keep it from intrusion of chips & dusts.
¡ð Automatic compulsory lubrications units are equipped for lubrication of the guideways.
¡ð Contacting surfaces at the back of the cross rail are lined with wear-resistant industrial alloy
material for smoother travels and longer machine life.

9.C axis, ram with live spindle and ATC (optional, model VBM series)
The machine can also be incorporated with a 3rd controlled axis, ie. C axis for controlled rotary movement of
the table. The movement is transmitted to the table by means of a pinion meshing with the gear that is
placed under the table. The pinion is driven by a servo motor through a gearbox reducer unit. C axis allows
for a controlled high precision indexing & positioning of the table, combining a low speed variable rotation
and a high torque on the table, allowing milling, drilling and grinding operations with high accuracy.
The ram size can also be enlarged and modified to accommodate a live rotating spindle driven by a servo
motor. The spindle nose can be ISO 50 / BT 50 with tool clamping mechanism.
With this configuration, the machine can perform milling, drilling and reaming as well as turning functions. X,
Z and C axes can be simultaneously controlled.
¡ð A rotating spindle is integrated in the ram and is driven by an AC spindle motor.
¡ð In turning mode, table is driven by DC main motor, DC digital drive and 2-step speed change gearbox.
¡ð In indexing and table feeding mode (C-axis), table is driven by servo motor and gear-pinion mechanism.
¡ð The a/m two modes are interlocked, ie. mechanism for turning will de-couple when the machine is
running in milling mode and vice versa.
Automatic tool changer (ATC) can also be adopted with tool magazine capacity of 8, 12 or 20 pockets.

10. Standard accessories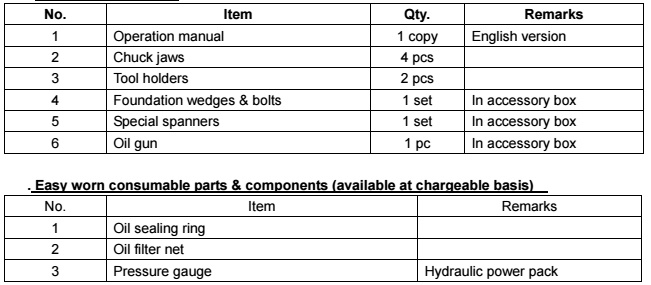 11. Installation for Customer site