Rod pan bead mill is a type of horizontal bead mill with large flow capacity. As a type ultra-fine grinding mill, the disc bead mill is the most widly used, most advanced and most efficient grinding equipment. The rod pin bead mill is suitable for grinding material that are extreamely difficult to disperse. Suitable for grinding ultra-fine nanoscale material with medium and high viscosity., is widely used in mineral, coatings,dyes,inks,photosensitive material, pesticides, medicine, lithium batteries, nano new material, carbon nonatubes, cosmetics,graphene etc.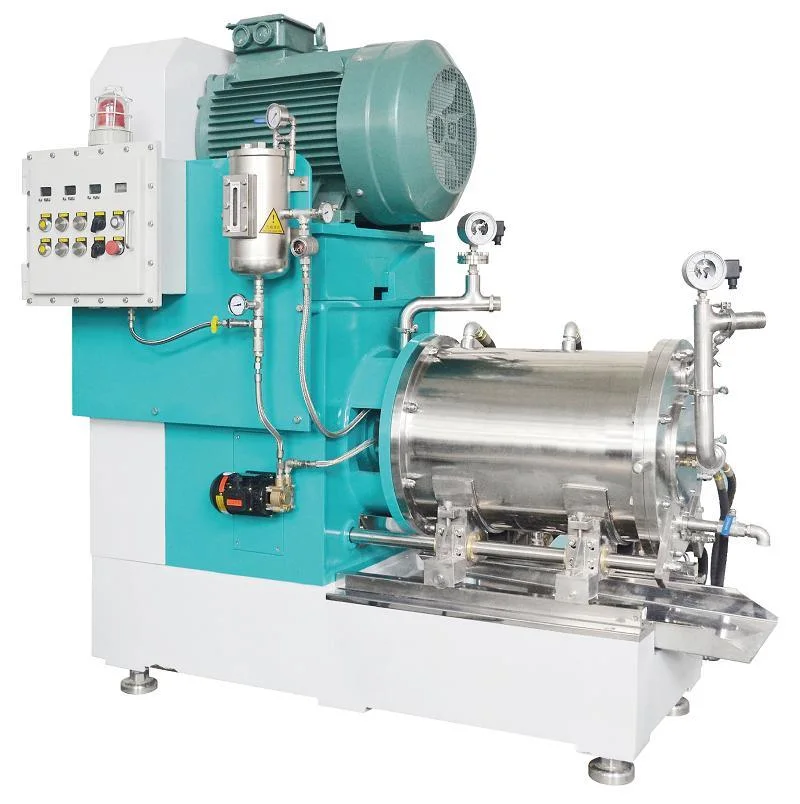 Working principle
The mixing parts of rod pin bead mill are rod pins. The rod pins are generally short and cylindrical. They are mounted on the hollow mixing shaft and combined with the horizontal grinding drum to form a high-density energy grinding. During operation, the mechanical energy generated by the rotation of the dispersing chamber.During operating,the rod pin drives the medium and the material to collide and grind. The material is subjected to strong impact force and high shear force, which makes the grinding disperision effect more remarkable.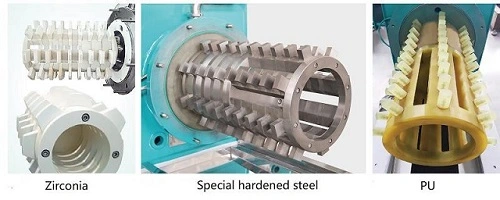 Features and
technology advantages
1.The new design of the static centrifugal separation device with large flow and material flow smoothly.
2. Could use the grinding media above 0.1mm.
3. Using the rotor and cylinder arrangement with standards of golden section ratio,it can effectively reduce wear and tear, increase energy efficiency, and achieve the best use effect.
4.More optimized design of the whole machine to make more reliable of the overall stability of the equipment.
5.Ensure the stability of equipment operation with parts of high precision machining and exquisite assembly process.
6.Material quality
:
according to different products, you can choose silicon carbide, silicon nitride, zirconium oxide, polyurethane, hard alloy and other materials.
7.Multiple cooling mode, can effectively reduce the heat produced by grinding.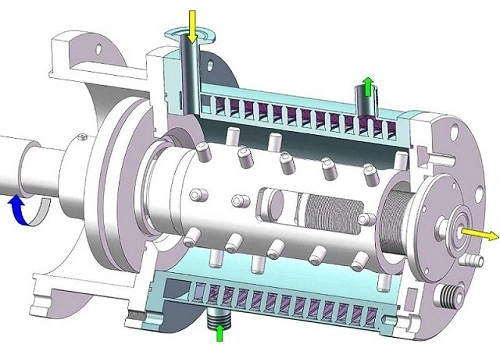 Specification of rod pin bead mill
| | | | | | | | |
| --- | --- | --- | --- | --- | --- | --- | --- |
| Model | CDP-6 | CDP-10 | CDP-30 | CDP-60 | CDP-90 | CDP-150 | CDP-300 |
| Main power(Kw) | 15 | 22 | 45 | 75-90 | 110-132 | 160-186 | 250-315 |
| Charmber volume(L) | 6 | 10 | 30 | 60 | 90 | 150 | 300 |
| Grinding medium(mm) | 0.2-2 | 0.2-2 | 0.2-2 | 0.2-2 | 0.2-2 | 0.2-2 | 0.2-2 |
| Weight(kg) | 600 | 750 | 1500 | 3000 | 4000 | 6000 | 7500 |